01.10.2016 | Ausgabe 3/2016 Open Access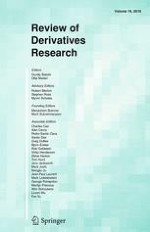 The leverage effect puzzle: the case of European sovereign credit default swap market
Zeitschrift:
Autor:

Agata Kliber
Abstract
One of the stylized facts about the behaviour of time series is that their volatility exhibits asymmetrical responses to good and bad news. In the case of stock markets, volatility seems to rise when the stock price decreases and fall when the stock price increases. This so-called "leverage effect" was first described by Black (Proceedings of the 1976 meeting of the business and economic statistics section, pp 177–181,
1976
). The concept is not new and has already been comprehensively studied and implemented in many volatility models (GARCH and SV) in the form of an additional parameter in the volatility equation. However, there is no study or a theoretical explanation of the leverage effect in sovereign credit default swap spreads (hereinafter: sCDS). In this article, we discuss the possible behaviour of sCDS volatility and explain it by way of reference to the Prospect Theory by Kahneman and Tversky (Econometrica 47(2):263–292,
1979
). We estimate a series of stochastic volatility models with the leverage effect, proposed by Yu (J Econom 127(2):165–178,
2005
). In this model, the "leverage effect" is, in fact, the same as a coefficient of the correlation between the current return of an asset and its expected future volatility. We show that the effect does exist and differs across markets. As far as the safe European markets are concerned, the parameter is negative; in the case of extremely risky economies—it is positive. In markets of medium risk the effect varies depending on the relationship between the perceived risk and the value of the sCDS premium.