2013 | OriginalPaper | Buchkapitel
9. The Low Cost Hydrogen Production from Hydrogen Sulfide in Black Sea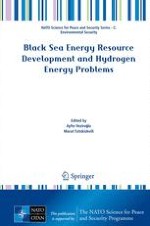 Erstes Kapitel lesen
Autoren: Salah A. Naman, Ayfer Veziroğlu
Verlag: Springer Netherlands
Abstract
Hydrogen sulfide (H
2
S) is a polluting gas, smelly, corrosive and highly toxic. Hydrogen sulfide is commonly found in the Petroleum nature gas and Black Sea as follows:
Petroleum natural gas and refineries contain H2S especially if the crude oil contains a lot of sulfur compounds (10 %), i.e., Kirkuk Oil Field North of Iraq.

Black Sea contains H2S gas which may be produced by microbial sulfur cycle at the equilibrium depth of thousand meters (10 ppm). The total sulfur pool in Black Sea is believed to be 11.38 mg/l (around 4.6 × 109 tons).
The extraction of 10 ppm H2S from Black Sea at a depth of 1,000 m is the main part of this project, which we believe it is contributing about 90 % of the problem, as it will be very costly if we pump the water from that depth to the surface. Therefore, two pilot plants (Laboratory and Industrial) have been suggested and built by our research group for separation of H2S gas from water, according to Henry's Law which it is a function of pressure, temperature, pH and salt continent. The results of our laboratory pilot plant gave us good separation efficiency of only H2S gas from the water condition of the Black Sea.
Therefore, we built another new extraction Industrial pilot plant according to Henry's principle suitable to operate and separate this gas inside the sea at the depth of 1,000 m to transfer this gas to the surface of the Black Sea.
Then with respect to the production of hydrogen from H2S on the surface of sea, we have built two suitable pilot plants for thermal decomposition and photo thermal decomposition of H2S to hydrogen and sulfur.
We have used these pilot plants to convert our two Clause process plants in Iraq to produce hydrogen and sulfur. We then found that the mixture of H2S and methane will reduce the cost of production of hydrogen to a very low price due to the production of CS2. We used in our laboratory pilot plants for the above thermal and photo-decomposition of H2S gas different catalysts and semiconductors at a temperature range of 450–800 °C instead of 1,500 °C.