01.03.2011 | Research Paper | Ausgabe 3/2011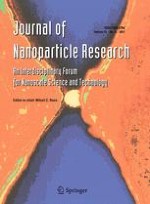 The magnetic and hyperthermia studies of bare and silica-coated La0.75Sr0.25MnO3 nanoparticles
Zeitschrift:
Autoren:

O. Kaman, P. Veverka, Z. Jirák, M. Maryško, K. Knížek, M. Veverka, P. Kašpar, M. Burian, V. Šepelák, E. Pollert
Wichtige Hinweise
Electronic supplementary material
The online version of this article (doi:
10.​1007/​s11051-010-0117-x
) contains supplementary material, which is available to authorized users.
V. Šepelák—On leave from the Slovak Academy of Sciences, Watsonova 45, 04353, Košice, Slovakia.
Abstract
The magnetic nanoparticles of La
0.75
Sr
0.25
MnO
3
perovskite manganite with a controlled size were prepared via sol–gel procedure, followed by thermal treatment and subsequent mechanical processing of the resulting raw product. The prepared materials were structurally studied by the XRD and TEM methods and probed by DC magnetic measurements. The nanoparticles of the mean crystallite sizes 11–40 nm exhibit
T
C
in the range of ≈310–347 K and the sample possessing 20-nm crystallites was identified as the most suitable for hyperthermia experiments. In order to obtain a colloidally stable suspension and prevent toxic effects, the selected magnetic cores were further encapsulated into silica shell using tetraethoxysilane. The detailed magnetic studies were focused on the comparison of the raw product, the bare nanoparticles after mechanical processing and the silica-coated nanoparticles, dealing also with effects of size distribution and magnetic interactions. The heating experiments were carried out in an AC field of frequencies 100 kHz–1 MHz and amplitude 3.0–8.9 kA m
−1
on water dispersions of the samples, and the generated heat was deduced from their warming rate taking into account experimentally determined thermal losses into surroundings. The experiments demonstrate that the heating efficiency of the coated nanoparticles is generally higher than that of the bare magnetic cores. It is also shown that the aggregation of the bare nanoparticles increases heating efficiency at least in a certain concentration range.