2019 | OriginalPaper | Buchkapitel
6. The "Making of" Palimpsestuous Adaptation in José Luis Guerín's
Innisfree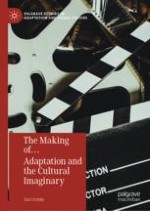 Erstes Kapitel lesen
Autor: Jan Cronin
Abstract
This chapter examines José Luis Guerín's 1990 film,
Innisfree
, as a sophisticated and interrogative version of the adaptive blend of John Ford's
The Quiet Man
, the making of Ford's film and Cong (as the Irish site of that making) produced in the "Making of" texts explored in Chapters 4 and 5. Cronin explores how Guerín's artistic adaptation depicts both artistic and cultural adaptation as entailing the blurring of boundaries between, and the blending of, contestatory layers, and how Guerín's work calls attention to the role of artistic adaptation in cultural adaptation. The chapter uses
Innisfree
to both demonstrate the "Making of" genre's potential for cultural commentary and illuminate the kinds of critical and cultural eclipses engineered by the "Making of" sites considered in earlier chapters.