2019 | OriginalPaper | Buchkapitel
The Making of the Zou Chuqu Strategy at the Marketing Level: An Abstract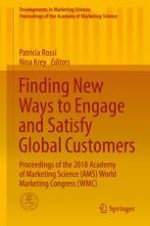 Erstes Kapitel lesen
Autoren: Claude Chailan, Dominique Mazé, Otto Regalado Pezua
Abstract
The aim of the
zou chuqu
policy implemented by the Chinese government has been to provide the legal and financial means as well as clear objectives to Chinese companies so that they internationalized their activities rapidly. In this context, Chinese companies have rapidly deployed their business abroad over the past 15 years but must now resolve the issue of the definition of the most appropriate brand policies to reach their goals in a more complex international business context.
In this research, we rely on the work of Mathews (2002, 2006) who considers that the accelerated internationalization pace of multinational companies in emerging countries is the result of a triple phenomenon, conceptualized under the linkage-leverage-learning (LLL) model.
Although its initial scope is clearly within the field of corporate strategy, we have sought to operationalize Mathew's paradigm in the area of brand management, in this case brand policies of Chinese companies in their desire to conquer consumers around the world. This migration of the model is justified insofar as the brand policy in the context of the internationalization of business is much more of a strategic choice than a marketing choice.
An explanatory model was created which leads to three branding strategy options which may be implemented by Chinese companies in the
zou chuqu
context. Each of these brand policies illustrates a historical adage characteristic of Chinese culture and defines an attitude to adopt in certain circumstances and power relations.
The analysis thus highlights the originality of the Chinese dynamic of brand development in an international context. The strategies of conquest of Chinese groups are marked by the multi-millennial culture of the country, and the research rehabilitates the role of culture in the field of brand strategy while at the same time paving the way for new agendas in the field of international marketing.
Also, with a reasonable degree of plausibility, the three strategic branding policies are reinforcing the contingency perspective of international marketing according to which brand policy may depend on company criteria as well as on foreign market specificities.
References Available Upon Request