01.08.2011 | Originals Originalarbeiten | Ausgabe 3/2011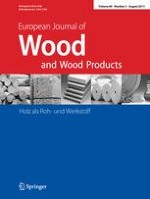 The manufacture of particleboards using mixture of reed (surface layer) and commercial species (middle layer)
Zeitschrift:
Autoren:

Mohammad Dahmardeh Ghalehno, Mehrab Madhoushi, Taghi Tabarsa, Morteza Nazerian
Abstract
This research was conducted to investigate the suitability of reed (
Arundo donax
) as a substitute for wood in laboratory made 3-layer particleboard in order to supplement the supply of raw material for the Iranian particleboard industries. The ratio of the mixture of reed and wood particles were 20:80, 30:70, and 40:60, respectively, in the surface and middle layers. Press temperatures were chosen at two levels of 165 and 185 °C. Three levels of urea formaldehyde resin were selected for the surface layers, namely: 8, 10, and 12 percent. The experimental panels were tested for their mechanical strength including modulus of elasticity (MOE), modulus of rupture (MOR), internal bonding (IB) and physical properties (thickness swelling and water absorption) according to the procedure in DIN 68763. In general, the results show that reed has a positive effect on the mechanical and physical properties of boards. In this research, the treatment with 40% reed, 12% resin in the surface layers and a 185 °C press temperature has resulted in an optimum reed board product.