01.04.2015 | Symposium: High Entropy Alloys | Ausgabe 4/2015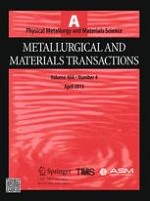 The Mechanical and Corrosion Behaviors of As-cast and Re-melted AlCrCuFeMnNi Multi-Component High-Entropy Alloy
Zeitschrift:
Autoren:

Vasile Soare, Dumitru Mitrica, Ionut Constantin, Gabriela Popescu, Ioana Csaki, Mihai Tarcolea, Ioan Carcea
Wichtige Hinweise
Manuscript submitted April 16, 2014.
Abstract
A multi-component AlCrCuFeMnNi high-entropy alloy, prepared by vacuum induction melting, was investigated for structural, mechanical, and corrosion characteristics, before and after the re-melting process. Optical microscopy analysis revealed a dendritic solidification behavior. The interdendritic area contains two main phases and occasionally small hard phases. The re-melting process produced a finer dendritic structure, with rounded dendrites and reduced interdendritic hard phases. The SEM-EDAX analysis showed that the dendrite region contains a Widmanstatten type of structure and are composed of Cr-Fe rich phases, whereas the interdendrite region contains Cu and Mn rich phases. XRD analysis revealed two disordered BCC type A2 structures with high Cr and Fe content and an FCC A12 type of structure for the Cu and Mn rich interdendritic phase. The lattice constants, determined by X-ray diffraction, are 2.87 and 2.91 Å for the A2 phases and 3.67 Å for A1 phase. The Vickers micro hardness increased with the homogeneity of the alloy, having a maximum value of 4370 MPa for the re-melted sample. Corrosion tests carried out in 3.5 wt pct sodium chloride aerated solution indicated that the corrosion resistance improved with the re-melting process, being 1.5 to 2 times better than that of 304 stainless steel.