01.02.2017 | Originalarbeit | Ausgabe 1-2/2017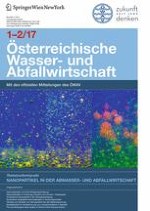 The microbiological water quality of Vienna's River Danube section and its associated water bodies
Zeitschrift:
Autoren:

Christina Frick, Wolfgang Zoufal, Christa Zoufal-Hruza, Alexander K. T. Kirschner, Dagmar Seidl, Julia Derx, Regina Sommer, Alfred P. Blaschke, Theodossia Nadiotis-Tsaka, Andreas H. Farnleitner
Abstract
For the City of Vienna, the River Danube and its associated water bodies (Alte Donau, Neue Donau, Mühlwasser, Lobau backwater) play an important role for recreation and drinking water supply. Microbiological water quality is of highest relevance for all user-related aspects. Microbiological water quality monitoring for this area has been mainly based on the standard fecal indicator bacteria
Escherichia coli
and intestinal enterococci, but has also applied alternative fecal indicators
Clostridium perfringens
and somatic coliphages as well as selected pathogens, like
Salmonella sp.
and enteroviruses. This article presents and compares available monitoring results from the last decade – 2004 to 2014 – for Vienna's River Danube section and its associated water bodies using a five-step classification scheme for fecal pollution. For one selected Danube site, a statistical long-term trend measurement and a correlation analysis with hydrological and seasonal patterns were performed as well. The challenge of this work was to combine, analyze and compare data from programs with different objectives, which used different parameters and methods. To our knowledge, this is the first comprehensive overview of microbiological water quality data of Vienna's section of the Danube and its associated water bodies that is accessible to the public.