1994 | OriginalPaper | Buchkapitel
The Microwave Limb Sounder and Error Reduction: Is What You See What You Get?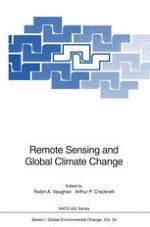 Erstes Kapitel lesen
Autor: Iain Woodhouse
Verlag: Springer Berlin Heidelberg
Enthalten in: Professional Book Archive
There is often some debate between users and producers of atmospheric remote sensing data as to what format the data should actually take. Producers know their own instrument and are probably best suited to provide product data (in the form of maps, plots, or whatever) but what is usually the concern of users, and quite rightly so, is that it is often unclear how much of the product is actually useful. In retrieving atmospheric profiles from satellite measurements it is necessary to include a priori information, i.e. information that is already known about the atmosphere. If you are given a profile determined from satellite observations, it is relevant to ask just how much of the information really came from the satellite measurements and how much is just a priori information. To quantify this a term called "error reduction" is defined.