01.12.2009 | Ausgabe 4/2009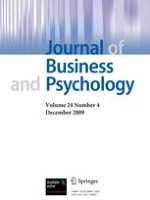 The Moderating Effect of Personality on Employees' Reactions to Procedural Fairness and Outcome Favorability
Zeitschrift:
Autoren:

Meredith F. Burnett, Ian O. Williamson, Kathryn M. Bartol
Wichtige Hinweise
Received and reviewed by former editor, George Neuman.
Abstract
Purpose
The purpose of this study was to examine how personality moderates the interactive effect of procedural fairness perceptions and outcome favorability on employees' job attitudes.
Design/Methodology/Approach
Longitudinal data were collected from seniors enrolled at a mid-Atlantic university via questionnaires that were administered to students prior to graduation and after beginning their full-time jobs (
n
= 1,581).
Findings
Employees with high levels of conscientiousness report higher levels of job satisfaction when they perceive their work environment as having low levels of extrinsic rewards but high levels of procedural fairness. Employees with high levels of extraversion report greater intentions to remain when they perceive their work environment as having high levels of social rewards but low levels of procedural fairness.
Implications
Understanding that conscientious employees develop positive attitudes even in work settings where there are less than optimal levels of extrinsic rewards shows that even when organizations cannot provide high levels of pay or promotion opportunities, highly conscientious employees are likely to maintain positive perceptions of their work environments as long as practices are fair. In situations where the work context offers high levels of social support but some organizational procedures are viewed as unpopular, and as a result unfair, managers should focus on selecting applicants who score high on extraversion.
Originality/Value
This is one of the first studies to challenge an implicit assumption of prior research that employees view procedural fairness and outcome favorability as equally salient cues when attempting to make sense of their work environment.