01.03.2004 | Original | Ausgabe 5/2004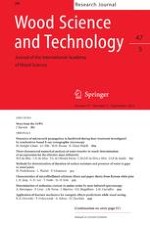 The modification of wood by treatment with low molecular weight phenol-formaldehyde resin: a properties enhancement with neutralized phenolic-resin and resin penetration into wood cell walls
Zeitschrift:
Autoren:

T. Furuno, Y. Imamura, H. Kajita
Abstract
To enhance dimensional stability and biological properties, low molecular weight phenolic resins of a conventional alkaline type and neutralized type were impregnated into Japanese cedar wood (
Cryptomeria japonica
D. Don) and heat-cured. The treatment with the neutralized type resin retained the original wood color, whereas the alkaline treatment changed the color of wood to red-brown. The concentrations of the resin solutions and the weight gains due to the resin loading of wood after treatment were highly correlated, and the target resin loading could be assessed from the solution concentration. A high dimensional stability of 60% antiswelling efficiency was attained when both types of resins were impregnated at about 30% resin loading and no significant difference was recognized between the two. To suppress decay attack from brown-rot and white-rot fungi, 15% and 10% resin loading due to treatment was required for the neutralized and alkaline types of phenolic resins, respectively. The penetration of resin into wood cell walls was investigated by means of light microscopy, Scanning Electron Microscopy (SEM), and Electron Probe X-ray Microanalysis (EPMA). A
m
-Bromophenol-formaldehyde resin of three levels of an average molecular weight was used to detect the presence of resin by bromine signals. The phenolic resins with low and medium molecular weights (290 and 470) were shown to penetrate into the cell walls the furthest, thereby contributing to the enhancement of dimensional stability and decay resistance in the resin-impregnated wood. Also, for phenolic resin with a high molecular weight (820), only the resin components of low molecular weight appeared to be present in the walls, making very little contribution to the dimensional stability.