2013 | OriginalPaper | Buchkapitel
5. The Monitoring Function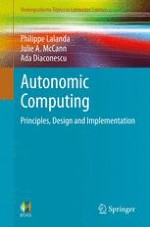 Erstes Kapitel lesen
Autoren: Philippe Lalanda, Julie A. McCann, Ada Diaconescu
Verlag: Springer London
Abstract
Monitoring can be seen as putting the self into self-management. Just as in psychology, the self is the representation of one's experience or one's identity; in autonomic computing, the data obtained from monitoring contributes to the representation of the system's experience or current state, self-knowledge if you like. Knowing the system state both from a functional and non-functional perspective is fundamental to being able to perform the operations necessary to achieve system goals at the desired level.
To maintain the analogy, just as a human can become self-conscious, that is, excessively conscious of one's appearance or manner leading to suboptimal functioning, so too can an autonomic system. Here where there is too much monitored data or the understanding of that data is erroneous or unclear which means the system is trying to change but does not know how to. Therefore, there have been a number of approaches to the monitoring of autonomic computing systems, the aim being to minimise the intrusiveness of the monitoring function while ensuring sufficient system self-awareness to optimise decision-making.
This section will focus on the monitoring function. To this end, we focus on the establishment of absolute measureable technical metrics that represent the performance or state of the system. This data can then be processed and these conclusions used to derive whether or not a system is meeting its quality levels or fulfilling a contractual obligation at the much higher levels of abstraction.