2017 | OriginalPaper | Buchkapitel
The Motion Analysis of Transferring from Bed to Wheelchair Conducted in the Nursing Field with Focusing on the Body Pressure Distribution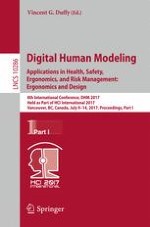 Erstes Kapitel lesen
Autoren: Hiromi Nakagawa, Kazuyuki Mori, Koshiro Takahashi, Kazuaki Yamashiro, Yoichiro Ogura, Akihiko Goto
Abstract
Occupational low back pain that affects 40–60% of nurses is categorized under non-accidental low back pain caused by the transferring of a wheelchair-bound patient. Prevention is an important issue, since the occurrence of non-accidental low back pain increases the chances for nurses to leave their job. The use of tools is recommended especially with regards to wheelchair transfer assistance since the motion of embracing the patient is the cause of low back pain among nurses. However, an educational program for back pain prevention is yet to be established at the basic level of education at nursing colleges. We were unable to find studies that compared the motions of a skilled nurse versus a nursing student when transferring a patient from wheelchair to bed.
This study attempts to clarify the differences the wheelchair transfer assistance motions of the expert and non-expert through three-dimensional motion analysis, interface pressure measurement, and fatigue study. The purpose of this study is to explicit the tacit nature of the techniques nurses employ when changing body positions. The study observes the motions of an expert and a non-expert by conducting an interface pressure measurement during a wheelchair transfer of a simulated patient. The motions of the transfer are then divided into four aspects and evaluated. As a result, the non-expert displayed flexions in the cervical vertebrae in all four aspects, indicating an instability in posture compared with the expert. Furthermore, the non-expert cited more areas and symptoms of physical fatigue than the expert after the transfer.
Considering the motion analysis results obtained from observing interface pressure, the above-mentioned motions have caused greater contact pressure for the simulated patient when seated, narrowing the surface area of the seat and forcing the patient's position on the seat to become shallow.