01.10.2019 | Original Article | Ausgabe 20/2019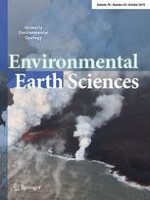 The multiple logistic regression recognition model for mine water inrush source based on cluster analysis
Zeitschrift:
Autoren:

Hao Zhang, Haofeng Xing, Duoxi Yao, Liangliang Liu, Daorui Xue, Fei Guo
Wichtige Hinweise
Publisher's Note
Springer Nature remains neutral with regard to jurisdictional claims in published maps and institutional affiliations.
Abstract
Mine water inrush is one of the major geological hazards that threaten safe production in coal mines. The accurate identification of mine water inrush sources plays a vital role in mine water disaster control, and it is the key to preventing mine water inrush incidents. Ninety-three water samples were extracted from the three types of aquifers in the Qinan coal mine. The cluster analysis method was then used to analyze 82 of the original water samples, and the other 11 water samples that did not meet the requirements were removed. Then, the remaining 82 water samples were regarded as training samples, and the principal component analysis was completed. Taking the scores of the principal components as the independent variable and the types of water inrush sources as the dependent variable, the multiple logistic regression recognition model was established. Meanwhile, this recognition model was used to recognize the types of mine water inrush sources and verify the recognition accuracy for the 82 training samples. The comprehensive recognition accuracy reached 86.6%, which is much higher than the traditional recognition methods of water inrush sources. Based on cluster analysis, the multiple logistic regression recognition model fully considers the ion content measurement errors and the complex relationships between the internal ions, and this recognition model is more reasonable and improves the accuracy of water inrush source recognition. This paper provides a new method for recognizing the problem of water inrush sources, which also provides an effective basis for mine water inrush prevention and control.