2017 | OriginalPaper | Buchkapitel
The Mutually Agreed Solution Between Indonesia and the United States in
US – Clove Cigarettes

: A Case of Efficient Breach (or Power Politics)?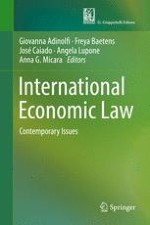 Erstes Kapitel lesen
Autor: Johannes Norpoth
Abstract
The Mutually Agreed Solution (MAS) to the
US – Clove Cigarettes
case between the United States and Indonesia evokes the idea of the WTO dispute settlement system allowing for efficient breach. Through the MAS, the case was declared settled based on mutual commitments of the two parties, while the original violation by the US remains in place. The paper first discusses whether MAS are a means through which WTO law allows such flexibility, concluding that such a view is tenable despite valid objections. Then, it inquires whether the MAS found between Indonesia and the US can be considered an efficient breach. In this context, the paper analyses the mutual commitments of the US and Indonesia with specific attention to the potential role of power in the settlement. The paper argues that from a legal perspective the MAS between Indonesia and the US cannot be considered a case of efficient breach, although politically the situation established through the MAS resembles a situation of efficient breach. The paper finds that power imbalances played a role in the settlement and suggests that the case study of this specific MAS highlights systemic risks in the current handling of WTO dispute settlement through MAS.