29.09.2016 | ORIGINAL PAPER | Ausgabe 1-2/2017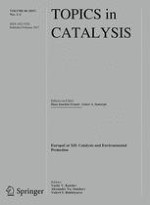 The Nature of Synergetic Effect of Manganese Oxide and Platinum in Pt–MnOX–Alumina Oxidation Catalysts
Zeitschrift:
Autoren:

S. A. Yashnik, A. V. Ishchenko, L. S. Dovlitova, Z. R. Ismagilov
Abstract
The phase and chemical compositions, size and morphology of Pt particles, manganese oxides, and alumina in the binary Pt–MnO
x
–alumina catalysts have been studied and compared with Redox behaviors and catalytic properties in butane oxidation. X-ray diffraction, high-resolution transmission electron microscopy, and chemical differentiating dissolution were used for the catalysts characterization. Temperature-programmed reduction by hydrogen was employed to study the Redox properties. The catalyst Pt–MnO
x
–alumina has been shown to possess synergetic effects in the catalytic butane oxidation activity and reducibility by hydrogen as compared to alone Pt–alumina and MnO
x
–alumina samples. These effects were shown to be associated with modification of the imperfect Al
3+
-doped β-Mn
3
O
4
nanoscale particles and the Mn
3+
-doped alumina crystals by platinum ions as well as the intimate contact of 1–2 nm sized PtO
2
particles with β-Mn
3
O
4
and manganese–alumina particles. It was found that Pt-precursors (such as H
2
PtCl
6
, H
2
[Pt(OH)
6
], Pt(NO
2
)
2
(NH
3
)
2
, [Pt(NH
3
)
4
]Cl
2
), alumina phase type (γ and χ) and temperature of the manganese–alumina activation (500 and 900
°
C) had a strong effect on the unique properties of the Pt–MnO
x
–alumina in butane oxidation and its reducibility.