2016 | OriginalPaper | Buchkapitel
2. The Need for an Integrated Economic Assessment of Climate Policy Options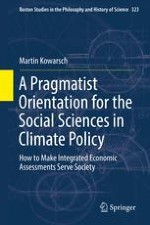 Erstes Kapitel lesen
Autor: Martin Kowarsch
Abstract
This chapter indicates the need for appropriate integrated economic assessments to support climate policy-making. A normative point of departure for this is John Dewey's concept of a scientifically well-informed, collective regulation of indirect consequences of human actions – as the essence of "the public" (Sect.
2.1
). From this Deweyan philosophy of deliberative democracy, a few (widely accepted) general norms for the role of the desired scientific expertise in policy can also be derived: sound science, policy-relevance, good communication and political legitimacy. Employing Dewey's political philosophy, I argue that integrated economic expertise, if it complies with the general norms for expertise in policy, is urgently needed to adequately understand and design complex climate policy where so much is at stake for so many (present and future) people (Sect.
2.2
). This is particularly, although not exclusively, true for climate change mitigation where many socially relevant aspects are still poorly understood. Section
2.3
introduces the highly influential Intergovernmental Panel on Climate Change (IPCC) and its integrated economic assessments, particularly those of IPCC Working Group III, on which this book will focus.