01.06.2015 | Ausgabe 2/2015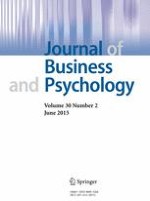 The "New" Dad: Navigating Fathering Identity Within Organizational Contexts
Zeitschrift:
Autoren:

Beth Humberd, Jamie J. Ladge, Brad Harrington
Abstract
Purpose
This study takes an identity lens to explore how men experience fatherhood in the context of their work amid shifting ideologies of fathering.
Methodological Approach
This study uses a qualitative, inductive approach with an interview methodology.
Findings
This study finds that men hold multiple images within their fathering identities that reflect a range of meanings spanning from traditional to more involved fathering. Norms and expectations from participants work and home lives invoke these various images of fathering, which create potential tensions in how men see themselves as fathers. While some participants navigate the multiplicity by defending traditional meanings of fathering, most fathers maintained the multiplicity by embracing the synergy or accepting the ambivalence among the images.
Implications
As fathers take on more caregiving and other family responsibilities, workplace norms may inhibit the development of a father's identity, as this study suggests. Fathers respond to potential tensions in ways that do little to alter images of them as "organization men," and the primary support they receive is through ad hoc and stealth methods. Further, fathers feel constrained in discussing the stress of managing fathering at work. This study emphasizes that organizations and managers must better recognize and appreciate fatherhood as a more serious and time-consuming role than it has been seen to be in the past.
Originality/Value
While more attention is being paid to the work–family experiences of men, few studies have considered in-depth how the organizational context shapes the identity dynamics fathers experience. This study offers a more nuanced consideration of the complexities associated with taking on a new identity that has multiple meanings, as a result of different contextual factors and shifting ideologies, and offers important insights into the power of the workplace to shape the content and meanings of individual's non-work identities.