2017 | OriginalPaper | Buchkapitel
4. The Nineteenth Century: Multipolar, Bipolar or Unipolar?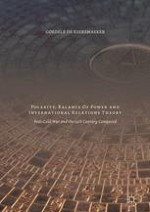 Erstes Kapitel lesen
Autor: Goedele De Keersmaeker
Abstract
The nineteenth century is usually described as multipolar but sometimes also as bipolar or unipolar. Multipolarity refers to the mere number of great powers in the European system and to the absence of a Cold War type bipolarization (cluster bipolarity). Some describe the period 1815–1853 as bipolar with Britain and Russia as superpowers in Europe apart from other great powers. In the economic field there was British unipolarity for most of the century. Moreover, one has to distinguish the European regional system from the global system. Polarity thinkers neglect the global British predominance, based on its Empire. But this did not lead to a predominant influence in the European system as the hegemonic stability theory claims.