01.02.2009 | Original Paper | Ausgabe 2/2009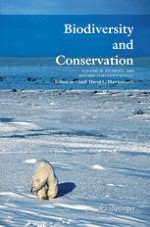 The orangutan–oil palm conflict: economic constraints and opportunities for conservation
Zeitschrift:
Autoren:

Hemanath Swarna Nantha, Clem Tisdell
Abstract
The future of the orangutan (
Pongo
spp.) is far from secure despite the species' high profile and media attention. The traditional threat to the orangutan has been widespread logging, but the continuing conversion of remaining habitat for oil palm (
Elaeis guineensis
) cultivation is hastening its extinction in the wild. This situation is driven by a robust global market for palm oil as a vegetable oil and biofuel. In tackling this conservation problem, therefore, economic factors cannot be overlooked. This article analyses these factors and how they curtail effective orangutan conservation. Of significance are the high opportunity costs of orangutan conservation and market failures associated with the public-goods nature of the orangutan's forest habitat. Conservationists should consider these constraints when formulating remedial action. This article assesses strategies that reduce the opportunity cost of conserving habitat (via supply-side approaches that divert oil palm cultivation away from forests) and enhance the realisable value of orangutan habitat (by capitalising on the demand for non-market values such as carbon storage). It is concluded that the former group of strategies are likely to have limited effect on curtailing deforestation, but with the right institutional policies in place they can act as stopgaps while strategies involving carbon financing and payments for biodiversity develop sufficiently to render habitat retention financially competitive.