2019 | OriginalPaper | Buchkapitel
1. The Organization of Terror and Murder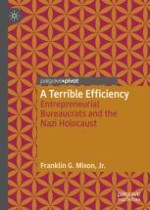 Autor: Franklin G. Mixon Jr.
Abstract
The chapter opens with the story of the 1960 capture of Adolf Eichmann by Israel's intelligence service. Eichmann was, at that time, arguably the most notorious Nazi war criminal who still remained at large during the 15 years since the end of World War II. Eichmann had been signatory on most of the 1600 documents related to the "Final Solution" that became evidence during his 1961 trial. This chapter also introduces readers to the scale of the crimes perpetrated by Eichmann and his colleagues in the Nazi apparatus—a scale that fits the implications of the modern theory of bureaucracy developed in a book by Albert Breton and Ronald Wintrobe titled
The Logic of Bureaucratic Conduct
(Cambridge University Press, 1982).