01.11.2018 | Original Paper | Ausgabe 3/2018 Open Access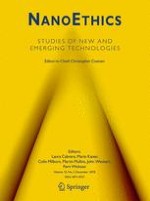 The Over-Extended Mind? Pink Noise and the Ethics of Interaction-Dominant Systems
Zeitschrift:
Autoren:

Darian Meacham, Miguel Prado Casanova
Labour appears, rather, merely as a conscious organ, scattered among the individual living workers at numerous points in the mechanical system; subsumed under the total process of the machinery itself, as itself only a link in the system, whose unity exists not in the living workers, but rather in the living active machinery, which confronts his individual, insignificant doings as a mighty organism. ([

1

], p. 693).

The individual becomes the mere spectator of the results of the functioning of the machines, or the one who is responsible for the organisation of technical ensembles putting the machines to work. ([

2

], p. 132).
Introduction
There is growing recognition in the literature on cognitive enhancement and neuroethics of the need for greater attention to the role of cognitive artefacts in the technological intervention into and alteration of cognitive processes. Fasoli [
3
] has argued for the need for greater consideration of cognitive artefacts in neuroethics and has developed a taxonomy of relationships between cognitive artefacts and cognitive processes [
4
]. Likewise, Heersmink [
5
] has argued for the broadening of neuroethics and cognitive enhancement debates to include more consideration of cognitive artefacts, including emerging technologies such as transcranial stimulation and neuro-prosthetics (e.g. [
6
]) but also greater reflection on "environmental objects and structures". Heersmink [
7
] has also developed a multi-dimensional framework for conceptualising integration between cognitive artefacts and human agents. The broadening and greater inclusivity of these descriptive and normative debates to consider a broad range of cognitive artefacts as enhancement technologies have been motivated by developments in what can broadly be referred to as 4E (embodied, embedded, extended, enactive) approaches to cognition (see, for example, [
8
,
9
]). Subsequently, this has furthered the encounter between the debates in the area of cognitive enhancement and those in 4E cognition (see, for example, [
10
]). In short, if some or all cognitive artefacts are considered forms of enhancement technology, then the form of cognition at issue falls within the domain of 4E approaches. Our aim here is to contribute to this discussion and the encounter between these two fields.
There remains however a lack of sustained engagement both concerning the epistemology of cognitive artefacts in the enhancement debate, and the potential ethical and political challenges arising from the increasing pervasiveness of digital cognitive artefacts [
11
] in the fields of 4E (or situated) cognition. It seems clear that discussions of enhancement and cognitive enhancement in particular will increasingly centre around hybrid, human-artefact, cognitive systems, and specifically human + digital cognitive artefact systems.
1
Prospective technologies and scenarios for human cognitive enhancement increasingly implicate hybrids of organic cognitive systems (brains) and digital cognitive artefacts (digital technologies), sometimes called cognitive computing.
2
The world's largest edu-business, Pearson [
12
], one of the world's largest computing companies, IBM [
13
], Facebook, Amazon, Google, and Microsoft
3
have shown strong interest in the development and production of cognitive computing systems applications for use in the educational market, business, government, healthcare, education, and other sectors. On the basis of these interests, there is a common vision of how machine intelligence might perform as cognitive-enhancement technology in various settings.
Consequently, addressing the epistemological as well as ethical and political questions issuing from cognitive artefacts is one of the most important tasks for the debates concerning responsible research and innovation (RRI) in human enhancement technologies. This, more specifically, is how we hope to contribute to the encounter between discussions in cognitive enhancement and those in 4E cognition. RRI is defined by the European Commission as an "approach that anticipates and assesses potential implications and societal expectations with regard to research and innovation, with the aim to foster the design of inclusive and sustainable research and innovation" [
14
]. It has been adopted as a research and support initiative within large techno-science and innovation funding programmes by many international and national funders including but not limited to the European Commission's €80 billion Horizon2020 Programme, the UK's EPSRC (Engineering and Physical Science Research Council),
4
and the Dutch NWO, where RRI is a flagship programme.
5
While each funder defines RRI (or sometimes just RI, i.e. responsible innovation) in a slightly different fashion, there are clear overarching commonalities. There is an expanding literature on this approach to bringing societal, ethical and political concerns directly into the research funding and subsequent innovation process(es). These debates, though significant, are outside the scope of this paper, which nonetheless situates itself within the scope of RRI as broadly defined above (and in notes 5 and 6).
Cognitive Coupling
Relations between humans and digital cognitive artefacts can be characterised as
cognitive coupling
where there is communication or information flow within the coupled system (human-cognitive artefact). The title of this paper, "the over-extended mind", refers to a phenomenon wherein (1) the cognitive coupling between a human and a cognitive artefact can be described as "interaction-dominant" (a term that we will define below); and (2) the interaction-dominance is ethically and politically significant for how we understand responsibility and agency. The "over-extended mind", we contend, has consequences pertaining to the responsible innovation and value-sensitive design of those cognitive artefacts that could potentially form intraction-dominant systems with human minds and bodies.
Specifically, we argue that interaction-dominance as an emergent property of some human-cognitive artefact couplings has ramifications for the attribution of agency and responsibility in a fashion that is not discussed in the existing literature. While the characteristic of interaction-dominance can be manifest in relations with all sorts of cognitive artefacts, we think that the ethical and political salience comes of the fore in the discussion of digital cognitive artefacts that make use of algorithms (processes or sets of rules used in calculations or other problem-solving processes).
6
Thus, there are specific implications for discussions about responsible innovation or value-sensitive design of digital cognitive artefacts and specifically human – digital cognitive artefact interfaces. Consequently, we argue that in view of the potential scenario of the "over-extended mind", cognitive distance or disruption in the flow of information between certain kinds of cognitive artefact and their human users can be considered a design-virtue and a key element to consider in responsible innovation. To put this another way: building in some forms of noise qua disruption of information flow could be an aspect of value sensitive design in the innovation of human – digital cognitive artefact interfaces. Noise can in some instances be an epistemic virtue. Correspondingly, accessibility, durability, and intensity of information flow, all dimensions of integration between artefact and human agent, can in some cases be undesirables.
Interaction-dominance in human-cognitive artefact couplings or systems is both indicated and constituted by the related phenomenon of "pink noise": a sub-type of the general concept of noise. Thus, pink noise performs an important heuristic role in identifying and understanding interaction-dominant systems and the over-extended mind phenomenon. To understand the status and role of pink noise, and consequently interaction-dominant systems, we need to first examine how the general concept of noise operates in the loop of interactions which constitutes the flow of information between human and artefacts. This will establish the theoretical groundwork for approaching the ethical and political dimension of relations between human cognition and digital cognitive artefacts. As pink noise is central to the constitution of interaction-dominance and subsequently the over-extended mind, it plays a significant role in the practical, ethical, and political evaluation of coupling relations between humans and cognitive artefacts.
The main body of this paper will thus focus on characterising interaction-dominance in its relation to pink noise in the context of human-cognitive artefact coupling. We conclude with a further discussion of some of the ethical and political dimensions of interaction-dominant systems, already alluded to above. We situate our discussion of the ethical and political dimensions in the context of ongoing discussion concerning cognitive artefacts and distributed morality (e.g. [
5
,
18
]). Thus, one important aspect of what we hope to do here is a kind of translation work from discussions in cognitive science and philosophy of mind to discussions concerning responsible innovation and value-sensitive design.
The Terms of Engagement
The idea that noise plays a salient and constitutive role in this way faces some challenges. A first and fundamental challenge issues from the debate within cognitive science concerning whether the appearance of pink noise does indicate an interaction-dominant system. Second, there is the question of whether the epistemological, ethical, and political questions raised by demonstrating that some cognitive coupling may lead to the emergence of interaction-dominant systems are qualitatively or indeed quantitatively different from questions raised where an interaction-dominant system is not evidenced. We will address this in the final part of the paper.
We now turn to the role of "pink noise" as constituting and indicating interaction-dominant systems before discussing some potential ethical considerations arising out of the formation of human-digital artefact couplings that can be characterised as interaction-dominant systems and subsequently, the consequences of our analysis for RRI approaches to enhancement via cognitive artefacts.
Pink Noise and Interaction-Dependent Systems
The Many Virtues of Noise: Heuristic, Epistemic and Ethical
Let us return briefly to the key aspect of the summary definition of interaction-dominant systems: This entails that any singular component of the system interacts through the system as a whole, remodelling the dynamics of the other components and overriding the dynamics that the components would exhibit separately. The result is a functional and temporal indiscernibility and plastisity of causal components in an interaction-dominant system. The experiments discussed in the previous section demonstrate that the emergence of such systems is possible under quite routine conditions. Our contention here is that interaction-dominant systems, as emergent but common occurrences, can, by the fact that they do not consist of discernible causal, temporal or functional components, complicate or render impossible the assignment of agency or potentially responsibility as well as our understanding of autonomy in ever more prevalent human-digital artefact couplings. This is in part illustrated by several counter examples. Recall the previous example of a walking stick used as a sensory substitution device being integrated in the body schema of an agent to an extent that when in use an interaction-dominant system emerges. The light-weight stick may offer affordances [
52
] (we understand affordance here in a very basic sense as a perceptually manifest possibility of an object for action in an environment) for more nefarious use, for example thwacking others on the street. In such cases, despite the existence of an interaction-dominant system having emerged, the assignment of agency and responsibility for the action is not in doubt. Though the intensity of the extension is such that functional delimiting of parts is not possible, there remains little doubt of a central, subjective in this case, controller who is the agent of the action and hence the potential subject of responsibility. When the coupled artefact makes use of algorithms for problem solving, the situation
may
be different. It is helpful here to parse the discussion through Floridi's and Sanders' [
18
] discussion of distributed morality.
Drawing on theories of distributed cognition wherein a set of cognitive agents has knowledge that no one individual within the set has, Floridi builds an account where a set of morally neutral or negligible acts interact to create a morally salient act as an emergent property of the interaction – when two potentially neutral states or acts interact in the right way the result of the interaction is morally salient. It is important here to understand the salient act in two possible ways: on the one hand, it might be an emergent property of the interaction or it could be the cumulative effect of otherwise below moral salience threshold acts accumulating to pass the threshold of salience. The analysis here is decidedly consequentialist, or "receiver-perspective" since salience is gauged in terms of overall impact on the environment and its inhabitants, not on actor intentions. Such instances of distributed morality can go both ways, i.e. toward positive and negative evaluation. Floridi provides the example of consumer driven corporate responsibility programmes which require a critical mass of participation to become salient.
What distinguishes cases of distributed morality from interaction-dominance? It is certainly possible that distributed cognition or morality networks can be interaction-dominant, but they are not necessarily so. In the examples discussed by Floridi and Sanders [
18
], the delimiting of discrete causal components and behaviours is possible, responsibility for certain temporal or functional events in the process of a network interaction or process can still be assigned. This is not the case in an interaction-dominant system. We should be careful to remain specific in our understanding of what an interaction-dominant system is and how it is empirically identified, hence the importance of pink noise in this discussion. Heersmink [
5
,
11
] helpfully contrasts Floridi's distributed morality approach with the more actor-network theory influenced notion of "distributed agency" developed by Verbeek [
57
]. Verbeek's account confronts what he argues is the non-value-neutrality of certain artefacts in context. It is not so much that values or designers' intentions are embedded in artefacts in a way that directly impacts a morally relevant context, but rather that aspects of technology become value-charged within certain contexts to the extent that it is not possible to say that the artefact is value-neutral as the meaning of its functionality can only appear in a context. Heersmink, following Verbeek, refers to the example of an ultrasound machine noting that the enlarged size of the imaging, the possibility of discerning gender, in other words, the personification of the foetus via the imagining technology, is not value-neutral and that this can only be assessed in context. Examples such as this may be morally salient, but may still lack the same characteristic of interaction-dominance, namely the specific form of functional integration demonstrated by the appearance of pink noise. The lack of interaction-dominance is significant because the possibility for a clear if not totally transparent delineation of functional causality and competence within a system or network allows for a clearer, if not necessarily transparent, assessment of responsibility.
We can imagine examples where the demonstration of interaction-dependence, particularly in the relation between human and digital cognitive artefacts (artefacts making use of decision making and problem solving rules) has particular significance in assessing responsibility. There are reports of systemic racial bias in some decision-making algorithms, for example the COMPAS system used to assess the likelihood of recidivism for accused criminals. Speilkamp [
58
] summarised the findings of ProPublica [
59
]:
ProPublica, a Pulitzer Prize winning not-for-profit news organisation, analysed risk assessment software known as COMPAS. It is being used to forecast which criminals are most likely to reoffend. Guided by such forecasts, judges in courtrooms throughout the United States make decisions about the future of defendants and convicts, determining everything from bail amounts to sentences. When ProPublica compared COMPAS's risk assessments for more than 10,000 people arrested in one Florida county with how often those people actually went on to reoffend, it discovered that the algorithm "correctly predicted recidivism for black and white defendants at roughly the same rate." But when the algorithm was wrong, it was wrong in different ways for blacks and whites. Specifically, "blacks are almost twice as likely as whites to be labelled a higher risk but not actually re-offend."
Algorithmic decision making can be biased for a number of reason, including that often unconscious or implicit biases of those writing the algorithms are built into their rule making structures, or for reasons unknown to engineers because the mechanisms of the algorithm have been blackboxed. In cases such as COMPAS, the digital artefact is supposed to provide guidance to a human decision maker who, in these cases at least, remains the central controlling agent (to use the language of extended cognition). However, if usage of the interface is such that there is evidence of the emergence of an interaction-dominant system the temporal and functional delineation of competencies within the decision making process may be difficult to discern (we introduce this as a hypothetical, not as an actual assessment of the COMPAS system). In situations where such delineations are essential for the possibility of assigning legal or moral responsibility and also for the possibility of appeal due to evidence of bias somewhere in the components of the system, prior to the formation of the interaction-dominant systems (or after the fact) the appearance of pink noise is not only a potentially useful heuristic, but a possible canary in the proverbial mine. We do not mean to suggest that testing for pink noise is a way of overcoming the issues pertaining to the use of automated decision-making systems in the criminal justice system, nor even that bias introduced by the algorithms used by systems such as COMPAS may somehow be worse than unextended (into digital cognitive artefacts) human biases. We could also envision a situation wherein biases embedded in computer algorithms could be corrected for by other computer algorithms. Rather, that pink noise is a potentially helpful and important indicator of interaction-dominant relations, and that the latter may be undesirable in contexts where the identification of functional and temporal causal accountability is considered required. Pink noise is a heuristic key to the phenomenon that we called, at the beginning of this article, the over-extended mind. Hence, we think that the role of pink noise is potentially important further upstream in the design process and has lessons for the responsible or value-sensitive design and innovation of digital cognitive artefacts for the purposes of cognitive or other forms of enhancement. The over-extended mind and with it the role of pink noise point to the importance of distance and functional demarcation as an epistemic, ethical, and even social-political virtue in the design of interfaces between humans and digital cognitive artefacts. In other words, it points to
noise qua disturbance
in human-digital artefact coupling as a potential epistemic, ethical and social-political virtue in value-sensitive design. While interaction-dominance can certainly be a virtue in the case of sensory substitution prosthetics (e.g. the walking stick) it is less likely to be so when the coupled artefact has its own decision-making processes and rules that may not be transparent or available to other nodes in the network and when the delineation of functional competence and linear temporal relations is central to the moral, political, or legal evaluation of an action or behaviour. The goal of seamless integration with digital artefacts may have unforeseen negative consequences, while distance, disruption of information flow, and distraction, classical noisy enemies of cognition, may turn out to be virtues after all as the extension of morally, legally, and politically salient decision making and behaviours into digital artefacts becomes increasingly pervasive. Thought and reflection, as opposed to cognition, are after all often noisy and make use of resistances and interference to become more adaptive. As we look to digital artefacts to enhance all sorts of capacities, this desirability of distance, demarcation, and even disruption may be worth remembering.
In his seminal paper, "Do artifacts have politics?", Langdon Winner [
60
] argued convincingly that they do. A further difficulty emerges when one faces artefacts or technical assemblages that make it increasingly difficult to unravel the politics embedded in them from one's own. This is a situation that we think is made more likely and more prevalent by the increasing pervasiveness of digital cognitive artefacts and, in some cases, the emergence of ethically salient interaction-dominant systems. In this context, some noise between us and our digital tools may not just help to discern both responsibility as well as, in the case of pink noise, potential issues in assessing certain type of responsibility, but may also be a key indicator in the responsible innovation of human-machine interfaces.
Acknowledgements
The authors would like to thank two anonymous reviewers and the guest editor, Simone Arnaldi, for their helpful comments. We would also like to express our gratitude to Marco Fasoli for his comments on an earlier version of the article at a workshop held at the University of Padova in October 2017 as well as the members of the MEPET (Maastricht Ethics and Politics of Emerging Technologies) research group, for their comments on an earlier version. All shortcomings, errors, etc. are of course the sole responsibility of the authors.
Open Access
This article is distributed under the terms of the Creative Commons Attribution 4.0 International License (http://creativecommons.org/licenses/by/4.0/), which permits unrestricted use, distribution, and reproduction in any medium, provided you give appropriate credit to the original author(s) and the source, provide a link to the Creative Commons license, and indicate if changes were made.