2019 | OriginalPaper | Buchkapitel
3. The Pacific Alliance: WTO+ and WTOx?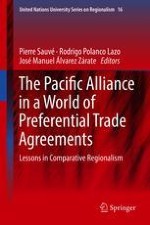 Erstes Kapitel lesen
Autoren: Camilo Pérez Restrepo, Alma Sofía Castro Lara
Abstract
The Pacific Alliance (PA) is one of the most dynamic economic liberalization processes among Latin American nations. The objective of this group is to advance towards regional integration through the liberalization of trade, services, investment and the freer movement of people among its members (Chile, Colombia, Mexico and Peru). This chapter aims to answer the question of whether the PA is a World Trade Organization-plus (WTO+) (i.e. it goes beyond the normal provisions of the WTO agreements) or a WTOx agreement (i.e. it covers issues for which there are no WTO agreements) within specific areas. The areas included in this assessment are: market access for goods, services and foreign direct investment; trade facilitation, government procurement, competition and intellectual property. The chapter concludes that the PA is a new-generation agreement that could be considered a WTO+ agreement in areas such as trade in goods and services, public procurement, trade facilitation and customs cooperation, and it is likely to reach WTO+ in terms of its provisions on intellectual property. The scope of the commitments in areas such as competition, investment and movement of capital, which are WTOx, represents this group's longstanding commitment towards deeper regional economic integration.