2021 | OriginalPaper | Buchkapitel
1. The People's Oil?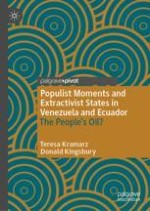 Autoren: Teresa Kramarz, Donald Kingsbury
Abstract
This chapter introduces the key interventions of the book. We argue that extractivist states engender democratic accountability deficits due to the requirements of trade and aspirations toward development. They establish state–society–nature dynamics that restrict participation and exact a heavy toll on the environment. Populist political sequences respond to these exclusionary and unequal dynamics. Although populism is often portrayed as a driver of poor environmental governance, we identify it instead as an intervening variable at best—one that emerges as a response to the democratic accountability deficits that characterize extractive states. However, once in power, populists often intensify rather than reverse the technocracy, verticalism, and exclusion of extractive states in order to increase and more widely distribute resource rents. As a result, extractivism gains a powerful, popular, and legitimating mandate despite its negative social, environmental, and economic consequences. By examining the experience of Venezuela and Ecuador, this book identifies the constraints and opportunities for environmental action as peoples and states attempt to balance state–society–nature relations imposed by extractive modes of development.