2001 | OriginalPaper | Buchkapitel
The Phase Changes in CH4 + C2H6 Hydrates, and Their Impact on Oil and Gas Production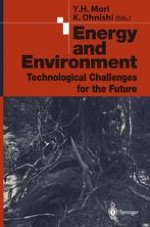 Erstes Kapitel lesen
Autoren: Sivakumar Subramanian, Adam Ballard, Ramesh A. Kini, Steven F. Dec, E. Dendy Sloan Jr.
Verlag: Springer Japan
Enthalten in: Professional Book Archive
Although methane and ethane form sI hydrates by themselves, the binary gas mixtures of these components form sII hydrates at certain compositions. In our earlier work, it was reported that the hydrate structure in methane + ethane hydrates changes from sI to sII over a methane vapor composition range (yCH4) of 0.72 to 0.75. Recently, Raman spectroscopic measurements on the CH4 + C2H6 system suggested that the hydrate structure reverts to sI from sII over a yCH4 range of 0.993 to 0.994. 13C-NMR measurements on this system suggested that hydrate composition changes, by about 50%, as the hydrate structure changes from sI to sII at the lower transition point. A new hydrate prediction model suggested that the hydrate structure at pressures higher than the incipient hydrate formation conditions might be different than that at the incipient pressures. The major industrial applications of these structural transitions in the CH4 + C2H6 hydrates are discussed.