01.02.2008 | Original Contribution | Ausgabe 2/2008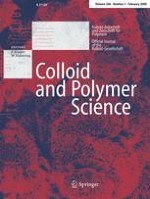 The photoisomerization of
trans

-stilbene in Triton X-100/

n

-C5H11OH/H2O microemulsions
Zeitschrift:
Autoren:

Xia Guo, Ling Lin, Rong Guo
Abstract
Different from organic solvent, self-assemblies are environment friendly media, and moreover, if they are used as micro-reactor, many meaningful and exciting results may be obtained. In this paper, we investigated the photoisomerization of
trans
-stilbene in Triton X-100/
n
-C
5
H
11
OH/H
2
O microemulsions (a kind of self-assemblies) with different compositions and structures to establish the relationship between the reaction yields and the compositions and structures of microemulsions. The results show that the yield of
cis
-stilbene is increased with the increase of water content or with the decrease of Triton X-100 content, and oil in water (O/W) structure is the best structure for this reaction, which makes it possible to decrease the pollution of environment by organic solvent always used in organic reactions.