29.05.2018 | Technical Paper | Ausgabe 2/2019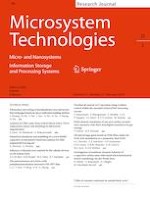 The piezoresistance of a device with polyphenylenevinylene derivative PSS-PPV film
Zeitschrift:
Autoren:

Jie Li, Yu-xuan Hou, Yu-yan Wang, Fei Ye, Gao-yu Zhong
Wichtige Hinweise
Publisher's Note
Springer Nature remains neutral with regard to jurisdictional claims in published maps and institutional affiliations.
The mechanical and electrical characteristics of poly[1-methoxy-4-(3-propyloxy-heptaisobutyl-PSS)-2,5-phenylenevinylene] (PSS-PPV) film were studied in this work. The loading curves and Young's modulus of PSS-PPV film were measured with nanoindentation tests. The device ITO/PSS-PPV (75 nm)/Al (100 nm) was fabricated and measured to obtain the current–voltage (I–V) and current-time (I–T) curves under different pressures ranging in 0–163 kPa. The device demonstrated high sensitivity, good stability, and nice repeatability. The piezoresistance coefficient can even reach 2.0 × 10−3 Pa−1 at 0.2 V and 111 kPa. The time and charges required to form a stable build-in electric field in the device under different pressures were analyzed using a high-frequency square-wave voltage. It is deduced that the applied pressure not only tightens the PSS-PPV film but also improves its conductance. This property makes PSS-PPV film possess prospect in pressure sensing applications, though it still suffers from partly slow recovering after considerable compression.