2014 | OriginalPaper | Buchkapitel
2. The Plume to Plate Transition: Hadean and Archean Crustal Evolution in the Northern Wyoming Province, U.S.A.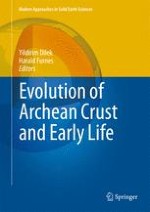 Erstes Kapitel lesen
Autoren: Paul A. Mueller, David W. Mogk, Darrell J. Henry, Joseph L. Wooden, David A. Foster
Verlag: Springer Netherlands
Abstract
The 2.8–4.0 Ga record of crustal evolution preserved in the northern Wyoming Province of western North America provides insight into the role of plume- and plate-regimes in the generation of Hadean and Archean continental crust, and the associated elemental depletion of the primitive mantle. The most complete record is exposed in the Beartooth Mountains (Montana-Wyoming), which lie within the Beartooth-Bighorn magmatic zone (BBMZ) sub-province of the Wyoming Province. The BBMZ (> 100,000 km2) is characterized by a single, voluminous suite of Mesoarchean (~ 2.8–2.9 Ga) TTG (tonalite-trondhjemite-granodiorite) plutonic and metaplutonic rocks. In the Beartooth Mountains these Mesoarchean rocks are exposed along an ~ 100 km E-W cross-section, along which they intrude greenschist grade turbidites in the west (South Snowy block) and high grade, older gneisses in the east (Beartooth Plateau block). The most complete assemblage of pre-2.8 Ga crust is preserved as enclaves within the plutonic Mesoarchean rocks of the Beartooth Plateau block. These older gneisses consist of 3.1–3.5 Ga, tectonically interleaved meta-plutonic (principally TTG and associated migmatites) and metasupracrustal lithologies (e.g., quartzites, schists, banded iron formation, and a range of paragneisses).
The arc-like elemental abundances and enriched Pb and Nd isotopic systematics of the Mesoarchean magmatic suite and the 3.1–3.5 Ga older enclaves in conjunction with Lu-Hf data from 3.3 to 4.0 Ga detrital zircons suggest a model of crustal evolution that began with a Hadean, mafic proto-continent that likely developed over a zone of mantle upwelling. Lu-Hf systematics of the 3.6 to 4.0 Ga zircons suggest substantial recycling within the proto-continent in this interval, and that this recycling involved a low Lu/Hf (~ 0.1) system. A ubiquitous component of 3.2–3.4 Ga detrital zircons with more juvenile Hf isotopic compositions occurs throughout the northern Wyoming Province and suggests a major period of crustal growth and generation of TTG-suite rocks from more depleted sources. Following a period of relative quiescence (2.8–3.1 Ga) in the BBMZ, late Mesoarchean arc magmatism (TTG, adakites, etc.) largely reconstituted the older crust during a relatively brief period between 2.79 and 2.83 Ga; it has remained essentially undisturbed since that time.
Placing this history in a global context suggests that Hadean-Eoarchean crust formed in diachronous and spatially diverse environments that were both plume-like (e.g., Pilbara, northern Wyoming Province) and subduction-like (e.g., West Greenland). The relative importance of plume-type crustal growth declined and subduction-type growth increased through time as a consequence of a progressive decline in terrestrial heat production and mantle potential temperature, with a concomitant increase in hydrous mantle melting in subduction zones.