01.03.2006 | Ausgabe 1/2006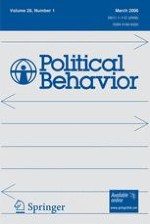 The political consequences of alienation-based and indifference-based voter abstention: Applications to Presidential Elections
Zeitschrift:
Autoren:

James Adams, Jay Dow, Samuel Merrill III
Abstract
We present a unified model of turnout and vote choice that incorporates two distinct motivations for citizens to abstain from voting:
alienation
from the candidates, and
indifference
between the candidates. Empirically, we find that alienation and indifference each motivated significant amounts of voter abstention in the 1980–1988 U.S. presidential elections. Using model-based computer simulations—which permit us to manipulate factors affecting turnout—we show that distinguishing between alienation and indifference illuminates three controversies in elections research. First, we find that abstention because of either alienation or indifference benefited Republican candidates, but only very modestly. Second, presidential elections involving attractive candidates motivate higher turnout, but only to the extent that abstention stems from alienation rather than from indifference. Third, paradoxically, citizens' individual-level tendencies to abstain because of alienation are strongly affected by their evaluations of the candidates' policies, whereas aggregate turnout rates do
not
depend significantly on the candidates' policy platforms.