13.10.2016 | Ausgabe 1-2/2017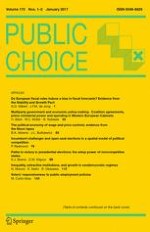 The political economy of wage and price controls: evidence from the Nixon tapes
Zeitschrift:
Autoren:

Burton A. Abrams, James L. Butkiewicz
Wichtige Hinweise
An earlier version of this paper was presented at the 2016 Public Choice Society Annual Meeting.
Abstract
In late July, 1971, Nixon reiterated his adamant opposition to wage and price controls calling them a scheme to socialize America. Yet, less than a month later, in a stunning reversal, he imposed the first and only peacetime wage and price controls in U.S. history. The Nixon tapes, personal tape recordings made during the presidency of Richard Nixon, provide a unique body of evidence to investigate the motivations for Nixon's stunning reversal. We uncover and report in this paper evidence that Nixon manipulated his New Economic Policy to help secure his reelection victory in 1972. He became convinced that wage and price controls were necessary to grab the headlines away from the defeatist abandonment of the Bretton Woods Agreement and the closing of the U.S. gold window. Nixon understood the impact of his wage and price controls, but chose to trade off longer-term economic costs to the economy for his own short-term political gain.