1998 | OriginalPaper | Buchkapitel
The Politics and Governance of Poverty Alleviation Programmes: Is Sub-Saharan Africa Learning from Latin America?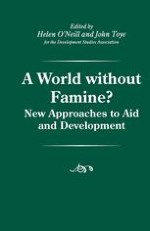 Erstes Kapitel lesen
Autor: Alan Sverrisson
Verlag: Palgrave Macmillan UK
Given that the World Bank's 'fundamental objective' is the achievement 'of sustainable poverty reduction in the developing world', it is clear that its governance agenda is, at least in theory, framed by this commitment. Similarly, the Bank's poverty alleviation activities predate chronologically its governance-focused programmes. Yet, at the same time, Bank interest in both poverty alleviation and governance can be defined, with apparently equal plausibility, as largely rhetorical devices, perhaps best described as bolt-on extras adopted to save the neoclassical skin of its key policy strategies, centred, in the case of SSA since the 1980s, on structural adjustment programmes (SAPs). Within these SAPs the implementation of both the governance agenda and the inauguration of a series of 'safety net' programmes, has concentrated Bank attention on what it now regards as the key role played by institutions, both public and private, in the development process. Accordingly, a focus on the changing institutional architecture of SAP-related anti-poverty 'safety net' interventions in SSA — notably the graduation away from supply-based 'social action programmes' towards demand-based 'social funds' — provides useful insights into the evolution, and the politics, of Bank thinking on appropriate mechanisms for pursuing its avowed governance objectives, namely to provide an enabling environment combining encouragement both for private-sector development and for enhanced public-sector effectiveness in programme delivery.