01.01.2015 | Original Paper | Ausgabe 1/2015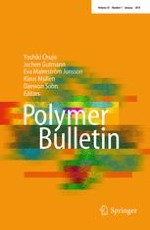 The polymerization of isobutylene catalyzed by FeCl3·
i

-Pr2O complex prepared in non-halogenated solvents
Zeitschrift:
Autoren:

Rajeev Kumar, Jack Emert, Rudolf Faust
Abstract
The synthesis of highly reactive polyisobutylene (HR PIB) using FeCl
3
·diisopropyl ether (
i
-Pr
2
O) as catalyst prepared in dichloromethane (DCM), to produce polyisobutylene with high exo-olefin content (HR PIB), has been previously reported [
1
]. The use of chlorinated solvent for complex preparation is a major disadvantage for industrial-scale production of HR PIB. In an effort to replace DCM, an undesirable chlorinated solvent, we have studied the feasibility of using non-chlorinated solvents. Polymerization was absent when the complex preparation was attempted in hexanes, nitrobenzene or acetonitrile. When the complex was prepared in benzene the conversion was similar to that observed with DCM. Conversions decreased when a complex was prepared in toluene or
o
-xylene, due to a side reaction involving chlorination of the aromatic ring by FeCl
3
. This side reaction was suppressed by changing the addition order, i.e., adding an equivalent amount of FeCl
3
to
i
-Pr
2
O dissolved in toluene.