2014 | OriginalPaper | Buchkapitel Open Access
6. The Poorest: Who and Where They Are?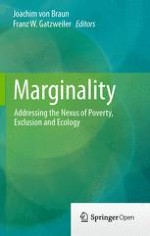 Autoren: Akhter U. Ahmed, Ruth Vargas Hill, Farria Naeem
Verlag: Springer Netherlands
Jetzt einloggen
Abstract
This chapter provides a global quantitative perspective on where the world's poor and particularly the poorest live, and the extent of progress made in the reduction of income poverty close to and far below the international poverty line (US$1.25/day per capita) over the past two decades. The characteristics of the ultra-poor are identified based on a quantitative assessment across developing countries. Poverty reduction from 1990 to 2008 was quite equal between those who are somewhat below that poverty line and the ultra-poor—in fact it slightly favored the ultra-poor. This suggests that the theory of enduring poverty traps may not be holding true for those in ultra-poverty in recent years, as this pattern is different compared to earlier global findings. For interventions to reach the ultra-poor (i.e., those living on less than US$0.63/day) effectively, geographically marginal households should be targeted; and the low-levels of education, and in the case of Asia, landlessness should be taken into account.