2013 | OriginalPaper | Buchkapitel
4. The Post-9/11 Era: Is Arms Control Still Relevant?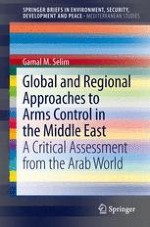 Erstes Kapitel lesen
Autor: Gamal M. Selim
Verlag: Springer Berlin Heidelberg
Abstract
Following the 9/11 attacks, a major change occurred in Western, particularly American security policies at the global and regional levels, including policy in the area of arms control. In the United States, the George W. Bush administration declared a war on terrorism that targeted both terrorist organizations and so-called 'rogue states'. The administration argued that it could not afford to wait until such organizations or states acquired WMDs and used them first against US interests. Accordingly, the United States had to be prepared to strike first against aspiring possessors of WMD, especially rogue states seeking nuclear weapons. This brought the war on terrorism into a war of counter-proliferation in which the United States and a number of its European allies would target non-state terrorist organizations and rogue states suspected of developing WMDs (Record
2004
).