01.10.2019 | Polymers & biopolymers | Ausgabe 2/2020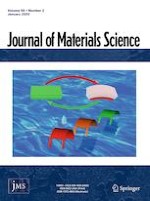 The preparation and property of photo- and thermo-responsive hydrogels with a blending system
Zeitschrift:
Autoren:

Shirong Shuai, Siyao Zhou, Yu Liu, Weirong Huo, Hongyu Zhu, Yang Li, Zikun Rao, Cong Zhao, Jianyuan Hao
Wichtige Hinweise
Electronic supplementary material
Publisher's Note
Springer Nature remains neutral with regard to jurisdictional claims in published maps and institutional affiliations.
Abstract
Hydrogels are the attractive biomaterials for biomedical applications. The dual-stimuli-responsive system, which is sensitive to both temperature and UV irradiation, was achieved through the self-assembly of amphiphilic block copolymers in aqueous solution and the cleavage of ο-nitrobenzyl (NB) ester groups under UV irradiation. The copolymer of poly(ε-caprolactone)-
b
-ο-nitrobenzyl-poly(ethylene glycol)-ο-nitrobenzyl-
b
-poly(ε-caprolactone) (PCL-NB-PEG-NB-PCL) was prepared by ring-opening polymerization (ROP) and nucleophilic substitution reaction of ε-caprolactone (ε-CL) using photo-sensitized polyethylene glycol as an initiator. After blending with poly(ε-caprolactone)-
b
-poly(ethylene glycol)-
b
-poly(ε-caprolactone) (PCL-PEG-PCL), the system exhibited the promising dual sensitivity with wide gel-phase window and controllable sensitive properties. The structures and dual-responsive behaviors were characterized by
1
H-NMR, GPC, DMA, UV–Vis, DLS and SEM. The results demonstrated the temperature and photo-sensitivity of the synthesized hydrogel and indicated that the blending of these two copolymers can easily adjust the phase transition temperature and broaden the gel-phase window through the content of NB groups in PCL-NB-PEG-NB-PCL and the hydrophilic/hydrophobic balance of system.