09.05.2020 | Energy materials | Ausgabe 23/2020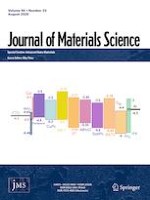 The preparation of graphite/silicon@carbon composites for lithium-ion batteries through molten salts electrolysis
Zeitschrift:
Autoren:

Yichen Hu, Bing Yu, Xiaopeng Qi, Bimeng Shi, Sheng Fang, Zhanglong Yu, Juanyu Yang
Wichtige Hinweise
Publisher's Note
Springer Nature remains neutral with regard to jurisdictional claims in published maps and institutional affiliations.
Abstract
High-specific-capacity materials are crucial for the high-energy-density lithium-ion secondary batteries as the automakers and customers are both eager to extend the cruising range of electric vehicles. The current commercial silicon/carbon composites are based on the mechanical mixture of silicon and graphite, but this weak combination is not suitable for the higher-capacity materials. Here, low-cost raw materials are used for the preparation of a graphite/silicon@carbon composite negative electrode material, which synergizes ball milling, molten salts electrolysis and carbon coating. Silica is in situ electrochemically reduced to silicon on the flaky graphite serving as the conducting substrate during the electrolysis process. It is found that ball milling increases the active sites on the basal plane of graphite, which is beneficial for the nucleation and growth of the silicon, and enhances the bonding of silicon particles and graphite. As for the electrochemical results of coin-type cells, this graphite/silicon@carbon composite material exhibits a better cycle performance than the commercial Si/C 650 silicon-based composite material.