11.10.2019 | Ausgabe 1-2/2020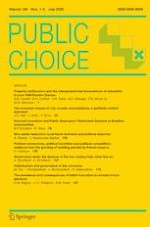 The prevalence and consequences of ballot truncation in ranked-choice elections
Zeitschrift:
Autoren:

D. Marc Kilgour, Jean-Charles Grégoire, Angèle M. Foley
Wichtige Hinweise
A.M. Foley: formerly Hamel.
Publisher's Note
Springer Nature remains neutral with regard to jurisdictional claims in published maps and institutional affiliations.
Abstract
In ranked-choice elections, voters vote by indicating their preference orderings over the candidates. A ballot is truncated when the ordering is incomplete (called partial voting). Sometimes truncation is forced—voters are allowed to rank only a limited number of candidates—but sometimes it is voluntary. During the vote tabulating process, a truncated ballot is exhausted when all of the candidates it ranks have been eliminated. Ballot exhaustion and, therefore ballot truncation, is a concern in single-winner elections when the margin of victory in the final stage is less than the number of exhausted ballots. That concern motivates our study. We review evidence from actual single-winner ranked-choice elections and conclude that voluntary ballot truncation is very common. Moreover, it is difficult to explain strategically. To assess the significance of ballot truncation, we simulate ranked-choice elections with four, five and six candidates, using both spatial and random models of voter preferences. Does truncation change the probability that a Condorcet winner wins the election? Does the winner change as the extent of truncation increases? We find that even small amounts of truncation can alter election outcomes.