2021 | OriginalPaper | Buchkapitel
6. The Process Perspective of TBM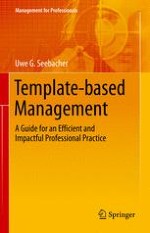 Erstes Kapitel lesen
Autor: Uwe G. Seebacher
Abstract
It is time to leave our consideration of the background of TBM in order to discuss and evaluate the underlying topics and assumptions. Our focus will now shift to the following questions:
What is TBM.

What do I as a business manager have to know about TBM.

How is TBM different from conventional management approaches to answer this question, it is necessary to understand, from a manager's point of view, how problem-solving processes overall, and in the areas of Information Technology, Process, and Human Resources Management, are generically similar.

What do I have to expect from templaters.

What is a template.

How can I develop one.

What do I need to pay attention to when I do so.

How do I have to change when I am applying TBM.

What are the benefits of TBM for me as a manager.
All these questions will be answered! Especially for practitioners and managers, this section provides valuable information for dealing with their internal templaters.
In this section you will learn more about the new management approach, enabling you to sustainably optimize the entire operative work as basis for an efficient and impactful professional practice. This means that we are about to jump right into the nucleus of Template-based Management.