01.12.2019 | Theoretical article | Ausgabe 1/2019 Open Access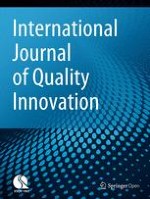 The quality management ecosystem for predictive maintenance in the Industry 4.0 era
Zeitschrift:
Autoren:

Sang M. Lee, DonHee Lee, Youn Sung Kim
Abbreviations
KSDS
Knock Sensor Detection System
PdMS
Predictive Maintenance & Service
Predix
GE Digital provides a platform (PaaS)
SHM
Structural health monitoring
Introduction
In this study, we analyze actual cases that currently exist in industries to illustrate how service and operational efficiencies can be improved through predictive maintenance. For this purpose, we performed an extensive review of the literature and diverse cases to derive a quality management ecosystem for the manufacturing and service industries for efficient quality management through digital devices in the Industry 4.0 era.
Review of relevant literature
Many recent examples of AI, smart sensors, smart robots, and other intelligent maintenance management can be found in companies today. In the following section, we seek predictive quality management approaches through case analyses of quality 4.0 in manufacturing and service companies, which helps develop a new digital business model through smartization of materials, parts, and equipment in factories.
Case description of predictive maintenance
Conclusions
The Fourth Industrial Revolution is an extension of the digital paradigm, similar to the Third Industrial Revolution, but with a wider range of economic and social disruptions through digital transformation, such as product and service innovation, jobs, and welfare, which are all, unpredictable and complex.
Since the present study presented a theoretical direction for predictive maintenance for quality management in Industry 4.0 through literature review and case analysis, but not based on empirical data, a limitation of the study is that its theoretical proposal has yet to be verified. Future research should consider conducting empirical research. Additionally, the validity of application plans for predictive maintenance for quality management through big data analysis, AI, platform building, deep learning, smart sensors, ICT, and robots should be examined more systematically in the future.
Acknowledgements
Not applicable.
Funding
There was no funding support for this study.
Availability of data and materials
This is a conceptual paper, and no data was collected for analysis.
Competing interests
The authors declare that they have no competing interests.
Publisher's Note
Springer Nature remains neutral with regard to jurisdictional claims in published maps and institutional affiliations.
Open Access
This article is distributed under the terms of the Creative Commons Attribution 4.0 International License (
http://​creativecommons.​org/​licenses/​by/​4.​0/​
), which permits unrestricted use, distribution, and reproduction in any medium, provided you give appropriate credit to the original author(s) and the source, provide a link to the Creative Commons license, and indicate if changes were made.