01.04.2014 | Ausgabe 3/2014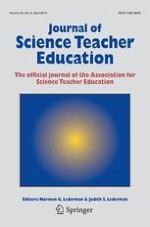 The Quality of Pre-service Science Teachers' Argumentation: Influence of Content Knowledge
Zeitschrift:
Autoren:

Pinar Seda Cetin, Nihal Dogan, Ali Yigit Kutluca
Abstract
Research exploring the possible link between quality of argumentation and content knowledge is not straightforward. Some studies suggest a positive relationship (e.g. Dawson & Schibeci in J Biol Educ 38(1):7–12,
2003
) while others do not (e.g. Zohar & Nemet in J Res Sci Teach 39:35–62,
2002
). This study examined the possible relationship between pre-service science teachers' (PSTs) lines of argument regarding genetic cloning issues and their knowledge of the related content. In the research, pre-service teachers were divided into groups according to the results of a conceptual understanding test on genetic cloning, and were categorized as high, middle and low achievers. After introducing three socio-scientific scenarios (relating to genetic cloning) with the intention of prompting lines of argumentation, the PSTs then participated in semi-structured interviews with the research team. It was revealed that there is not a significant relationship between the quality of socio-scientific argumentation among PSTs and their knowledge of content in the domain of cloning. Explanations for these results are discussed in light of the related literature and with reference to the interviews.