30.05.2013 | THE ECOINVENT DATABASE V3 | Ausgabe 9/2016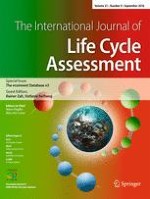 The Quebec Life Cycle Inventory Database Project
Using the ecoinvent database to generate, review, integrate, and host regional LCI data
Zeitschrift:
Autoren:

Pascal Lesage, Réjean Samson
Wichtige Hinweise
Responsible editor: Rainer Zah
Abstract
Purpose
Life cycle assessment (LCA) in Quebec (Canada) is increasingly important. Yet, studies often still need to rely on foreign life cycle inventory (LCI) data. The Quebec government invested in the creation of a Quebec LCI database. The approach is to work as an ecoinvent "National Database Initiative" (NDI), whereby the Quebec database initiative uses and contributes to the ecoinvent database. The paper clarifies the relationship between ecoinvent and the Quebec NDI and provides details on prioritization and data collection.
Methods
The first steps were to select a partner database provider and to work out the modalities of the partnership. The main criterion for partner selection was database transparency, i.e., availability of unit process data (gate-to-gate), necessary for database adaptation. This and other criteria, such as free access to external reviewers, conservation of dataset copyright, seamless embedding of datasets, and overall database sophistication, pointed to ecoinvent. Once started, the NDI project proceeded as follows: (1) data collection was prioritized based on several criteria; (2) some datasets were "recontextualized," i.e., existing datasets were duplicated and relocated in Quebec and linked to datasets representing regional suppliers, where relevant; (3) new datasets were created; and (4) Canadian environmentally extended supply-use tables were created for the ecoinvent IO repository.
Results and discussion
Prioritization identified 500 candidate datasets for recontextualization, based on the relative importance of relative contribution of direct electricity consumption to cradle-to-gate impacts, and 12 key sectors from which about 450 data adaptation or collection projects were singled out. Data collection and private sector solicitation are underway. Private sector participation is highly variable. A number of communication tools have been elaborated and a solicitation team formed to palliate this obstacle. The new ecoinvent database protocol (Weidema et al.
2011
) increases the amount of information that is required to create a dataset, which can lengthen or, in extreme cases, impede dataset creation. However, this new information is required for the new database functionalities (e.g., providing multiple system models based on the same unit process data and regionalized LCA).
Conclusions
Being an NDI is advantageous for the Quebec LCI database project on multiple levels. By conserving dataset copyright, the NDI remains free to spawn or support other LCI databases. Embedding datasets in ecoinvent enables the generation of LCI results from "day 1." The costs of IT infrastructure and data review are null. For these reasons, and because every NDI improves the global representativity of ecoinvent, we recommend other regional or national database projects work as NDIs.