2019 | OriginalPaper | Buchkapitel
The Rediscovery of the via
Annia

-

Popilia

from Capua to Reggio Calabria for Knowledge and Enhancement of the Cultural Route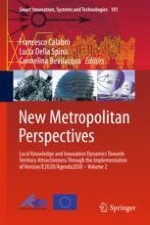 Erstes Kapitel lesen
Autor: Rosa Anna Genovese
Abstract
The Mediterranean is witnessing the re-emergence of its role as the pulsating heart of the encounter and clash of cultures. The creation of a
cultural path
capable of highlighting the common cultural roots of the regions, surrounding it of exalting their positive values, can come to constitute an essential element for dialogue in the horizon of
Mare nostrum
.
The Via
ab Regio ad Capuam
(known as Via Popilia or Via Annia) is the historic road built by Roman magistrates to join Rome to the
Civitas foederata Regium,
located at the furthermost tip of the Italian peninsula. Its course starts from the Via Appia, a few kilometres South-East of the ancient Capua, branching out through Nuceria, Salernum, the Vallo di Diano, the territories of Calabria and finally Reggio Calabria.
The Via Annia Popilia may therefore represent an axis for sustainable development, the driver of cultural, social and economic growth of the centres it crosses and the territories connected to it in the Regions of Southern Italy (Campania, Basilicata and Calabria, facing the Tyrrhenian Sea, which flows into the Mediterranean), a
Cultural Route
of European breadth through which historic urban landscape, archaeology, architecture and arts can become the meeting point of popular culture and traditions, of oenology-gastronomy and music, of cultural tourism and active participation, both public and private. The Route mentioned should also relate to territorial excellences and, thus, to the cultural and natural Sites inscribed onto the UNESCO World Heritage List and to their respective Management Plans.