2011 | OriginalPaper | Buchkapitel
18. The Relationship Between Natural Conditions and the Formation and Development of Clam Grounds (
Meretrix lyrata

) in the Mekong Delta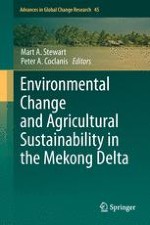 Erstes Kapitel lesen
Autoren: Tong Phuoc Hoang Son, Nguyen Thanh Tung
Verlag: Springer Netherlands
Abstract
Vietnam's overall mollusk production is estimated at 300,000–350,000 tons a year, of which clam production is estimated at about 60,000 tons. In the Mekong Delta, this species is concentrated mainly in six coastal provinces – Ben Tre, Tien Giang, Tra Vinh, Soc Trang, Bac Lieu, and Ca Mau.
In October 2009, the Ben Tre clam fishery received Marine Stewardship Council (MSC) certification, becoming the first fishery in Southeast Asia to meet the Council's sustainability and management standards.
Meretrix lyrata
– "Ben Tre" clam – became a famous commercial brand, a highlight of fresh aquaculture not only in Vietnam but also in the world.
This chapter focuses on assessing the relationship between natural conditions and the formation and development of clam grounds in Ben Tre Province as well as other parts of the Mekong Delta.
Statistical analysis based on survey data in 2007–2009, linked with the assessments of live server data and processed satellite image data, revealed the quantitative relationship between various environmental parameters and clam yield. The optimum environmental criteria set for the growth of clams have been established.
Based on the analysis of remote sensing data (aerial photographs, archived satellite images) in comparison with survey data, the evolution, formation, and development of clam grounds in these regions have been defined. Some recommendations on expanding the findings in the area studied to the whole Mekong Delta have been proposed, and the findings have been assessed in relation to various climate-change and human-interference scenarios.