01.05.2013 | Original Article | Ausgabe 1/2013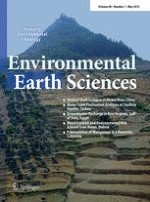 The relationship of vegetation and soil differentiation during the formation of black-soil-type degraded meadows in the headwater of the Qinghai-Tibetan Plateau, China
Zeitschrift:
Autoren:

Guohua Ren, Zhanhuan Shang, Ruijun Long, Yuan Hou, Bin Deng
Abstract
In alpine meadow ecosystems, considerable spatial heterogeneity in forb-dominant vegetation exists as a result of severe grassland degeneration; however, there is limited quantitative information on the vegetative differences between degenerated and pristine grasslands. Therefore, a field study, which seeks to identify the edaphic factors driving the variation in plant composition and distribution, was conducted in a severely degraded alpine meadow located in the Qinghai-Tibetan Plateau, NW China. Five meadows, an original meadow and four degraded meadows, were used to determine the differentiation and relationships between the vegetation and soil of degraded alpine meadows. The dominated species of these degraded meadows are
Ligularia virgaurea
–
Artemisia gmelinii
(LA),
Oxytropis ochrocephala
–
Leontopodium nanum
(OL),
Aconitum pendulum
–
Potentilla anserina
(AP) and
Stellera chamaejasme
–
Artemisia nanschanica
(SA), respectively. The results indicate that vegetation cover, grass biomass, species number and diversity indices clearly decrease from the original to the degraded meadow. Soil water, clay and nutrient content are also reduced with grassland degradation in surface and subsoil layers. The joint study of floristic and edaphic variables confirms that the soil features, especially the bulk density, sand content, pH, salinity, N and K, mainly determine the establishment of vegetation in the severely degraded fields of this study. These results may be useful for alpine grassland ecosystem restoration and management.