2017 | OriginalPaper | Buchkapitel
10. The Republic of Korea: No Longer a Small 'Shrimp Among Whales'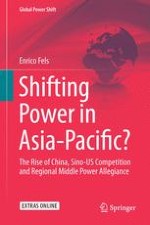 Erstes Kapitel lesen
Autor: Enrico Fels
Abstract
Some scholars recently noted that South Korea (like Australia) comes closest to meeting the middle power ideal. Seoul is a "natural starting point for new middle power theorizing based on responses to the rise of China", because it is "a particularly ambitious middle power" as well as a "strategically consequential middle power that lies at the epicentre of Asia's continental and maritime divide". Moreover, middle power diplomacy (
jung-gyun-guk
) has been present in South Korea's foreign policy discourse for quite some time and following the words of Sung-han Kim, ROK Vice Minister of Foreign Affairs and Trade, Seoul "is actively practicing middle-power diplomacy". Notably, in 1991 President Roh Tae-woo (1988–1993) declared South Korea would seek new roles as a regional middle power. Further, the
k
-means clustering in Chap.
6
has shown that Seoul has continuously made it into the middle power group since 1992. Moreover, the CIAP demonstrated the rise of South Korea's aggregate power relative to the position of other regional states. South Korea has consolidated the position of an influential regional state, whose foreign policy elites have understood their nation to be a regional middle power since the 1990s. Scholars have likewise pointed to South Korea as a "middle-level power". Before analysing the development of Seoul's relations with Washington and Beijing since the end of the Cold War, whether South Korea justifies the middle power criteria outlined in Chap.
4
will be assessed, i.e. sufficient control over resources, exercising responsibility in regional affairs and military self-sufficiency.