01.02.2020 | Ausgabe 2/2020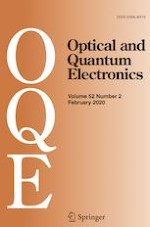 The research of chlorine e6 distribution and accumulation in multicellular tumor spheroid model
Zeitschrift:
Autoren:

D. S. Farrakhova, D. V. Yakovlev, Yu. S. Maklygina, A. V. Ryabova, A. V. Borodkin, M. V. Loschenov, L. Bezdetnaya, A. D. Plyutinskaya, T. A. Karmakova, A. A. Pankratov, V. B. Loschenov
Wichtige Hinweise
Guest edited by Tigran Vartanyan, Vadim Veiko, Andrey Belikov and Eugene Avrutin.
This article is part of the Topical Collection on Fundamentals of Laser Assisted Micro- & Nanotechnologies.
Publisher's Note
Springer Nature remains neutral with regard to jurisdictional claims in published maps and institutional affiliations.
Abstract
Squamous cell carcinoma is the most common type of oral and oropharyngeal cancers. Incomplete surgical removal of the tumor is often the cause of local recurrence of the disease and appearance of metastases. We have developed the novel endoscope fluorescence video system for visualization of micrometer size objects in real-time mode. The novel system was tested on three-dimensional models of cancer cells. Chlorine e6 (Ce6) was used as a photosensitizer. The accumulation of Ce6 in cancer cells was assessed by its fluorescence excited at 635 nm. It was shown that the 500 µm multicellular tumor spheroids could be easily detected with a good resolution and sensitivity. We suppose that the new endoscope video system could be useful for developing the intraoperative fluorescence navigation method using Ce6-mediated techniques that is able to visualize the small cancer cell clusters.