Erschienen in: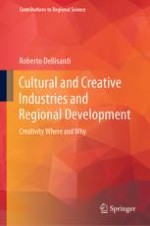 2023 | OriginalPaper | Buchkapitel
1. The Rise of CCIs: Setting the Scene
Abstract
This book focused on Cultural and Creative Industries (CCIs) has the ambition to stimulate a deep reflection for a wide audience (academics, policymakers, and practitioners) on both theoretical and empirical aspects that characterise these particular sectors. The book considers them according to their innovative capacity, implicitly distancing itself from the idea that they are homogeneously innovative. The book also bridges this heterogeneous innovative capacity with the territories in which CCIs settle, stressing the strong relevance of local tangible and non-tangible elements driving the creative genius. Specifically, this introductory chapter presents an overview of the debate that will be deepened within the work, identifying the main problems it sets out to solve together and presenting the structure of the work with the chapter-specific objectives.