01.06.2011 | Ausgabe 2/2011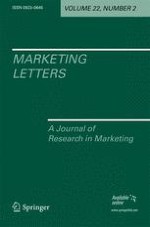 The role of brands in recruitment: A mixed-brand strategy approach
Zeitschrift:
Autoren:

John Kim, Kenneth M. York, Jeen-Su Lim
Abstract
DelVecchio et al. (Marketing Letters, 18, 149–164,
2007
) expanded the role of brand equity by revealing the important role it plays in human resource management. We extend their study by incorporating a mixed-brand structure in a potential job applicant's decision to pursue a job. We integrate both corporate level and product level brands to form an overall brand in this decision process. Four models based on inference processing and affect transfer are developed and tested. Our results suggest that corporate-level brand and product-level brand, which constitutes an overall brand name, play a major role in influencing a potential recruit to pursue a job.