2013 | OriginalPaper | Buchkapitel
The Role of Cardiac Magnetic Resonance in Selecting Patients with Left Ventricular Dysfunction Undergoing Surgical Ventricular Reconstruction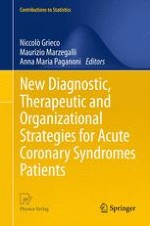 Erstes Kapitel lesen
Autoren: Serenella Castelvecchio, Lorenzo Menicanti
Verlag: Springer Milan
Abstract
Surgical ventricular reconstruction (SVR) has gained wide acceptance over the past 10 years as a surgical treatment for ischemic heart failure. However, data from the largest randomized trial have questioned the real additional benefit of SVR in respect of coronary artery bypass grafting (CABG) alone, outlining the need to improve patient selection. To this aim, we investigated the role of cardiac magnetic resonance (CMR) in characterizing the extent of myocardial fibrosis and its prognostic value in patients affected by ischemic cardiomyopathy (ICM).
Twenty-five patients (mean age 68 ± 8 years) affected by ICM, a left ventricle ejection fraction (EF) < 40 %, and referred for CABG underwent
late gadolinium enhancement
(LGE)-CMR before and 6 months after surgery and were included in Group 1. Forty patients (mean age 65 ± 10 years) affected by ICM, a left ventricle EF < 40 %, and referred for CABG plus SVR underwent the same protocol and were included in Group 2. In Group 1, patients showed a high percentage of viable myocardium, a percentage of recoverable myocardium higher than 50 %, and a low percentage of hyperenhanced tissue, indicating a low degree of fibrosis. At 6 months, end-diastolic volume index (EDVI) decreased by 23 %, end-systolic volume index (ESVI) decreased by 38 %, and ejection fraction (EF) increased by 13 absolute points. Conversely, in Group 2, a lower percentage of viable tissue and a higher percentage of hyperenhanced tissue identified patients with more dilated ventricles and lower EF. At the multivariate analysis, only the percentage of scar tissue at the basal portion has been resulted to be significantly associated with an adverse outcome (
P
= 0.04, OR 1.26, 95 % CI 1.01–1.58) in Group 2.
In patients affected by ICM and LV dysfunction, the myocardial tissue characterization by LGE–CMR might be useful in predicting the postoperative adverse outcome after SVR.