01.01.2015 | Original Paper | Ausgabe 2/2015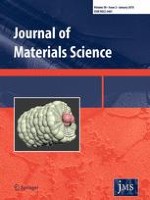 The role of catalytic cobalt-modified lanthanum ferrite nano-crystals in selective sensing of carbon monoxide
Zeitschrift:
Autoren:

K. K. Bhargav, S. Ram, S. B. Majumder
Abstract
In the present work we have investigated the carbon monoxide (CO) sensing characteristics of cobalt-modified lanthanum iron oxide perovskite sensors. Nano-particles of lanthanum ferrite and cobalt-modified lanthanum ferrites have been synthesized by auto-combustion route. We have reported that Co-modified LaFeO
3
sensor is capable to sense low-concentration (<100 ppm) CO selectively at operating temperature as low as 100 °C. The selective CO sensing characteristics at lower operating temperature are correlated to the superior catalytic activities of these perovskite toward CO oxidation. For these perovskite sensors it was demonstrated that the lower metal–oxygen binding energy, favorable
d
orbital electron configuration of transition metal cation/(s), and the nature of surface composition are the three dominant factors that control the catalytic activity and thereby the CO sensing characteristics.